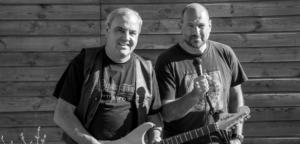 The new Lifechanger CD is the debut album by Lifechanger, a hardrock band formed by two musicians with a passion for various kinds of rock and metal: Wouter Smit and Peter Moltmaker.
Wouter and Peter met eachother at work, were they found out they listened to the same kind of music, both melodic hardrock as well as progressive metal. Bands like Whitesnake, Treat, H.E.A.T., Santa Cruz, Symphony X, Van Halen, Talisman, W.E.T., House of Lords, Bad English, Tyketto, Hardline, Fair Warning, Giant, Extreme and several others.
Peter starred as a singer in several theater productions, among which "The Theater Equation" by Ayreon, in which he played the role of "The Doctor" alongside renowned singers like James LaBrie of Dream Theater, and Anneke van Giersbergen of The Gathering. Wouter was a guitarist in several hardrock bands, before teaming up with Peter to compose the songs for this first Lifechanger album.
The Lifechanger project started when Wouter asked Peter to record vocal tracks for several melodic hardrock songs he composed. Wouter recorded some demo's with Peter in his homestudio, and soon they started writing more songs together, leading to the recording of this album. The songs mostly reflect an emotional journey through various recognisable stages in life, ultimately giving way to new experiences and possibilities, hence the name Lifechanger.  At this moment, Lifechanger is evolving into a real band. With this new band the aim is to play the songs of the album in a live setting.