The Lifechanger Album was record in different locations.  First Wouter produced the demo's himself, by programming drums, recording the bass guitar parts, adding some keyboards, and then recording the rhythm guitar parts, leads and finally the solo parts.  Then Peter recorded all the vocal tracks. Now we had some rough demo's, some were more polished, others needed som work., but you could hear the songs in their first version.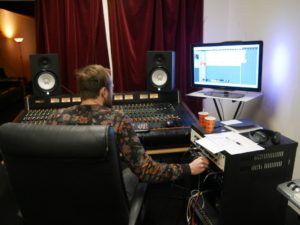 After that, we recorded some more tracks at Daan van de Brug's recording facility, where real drums, new bass tracks, vocals and other guitar parts were recorded. Due to circumstances these recordings were not finished, and we continued at Flying Fish Studio under the helm of Gertjan Vis. Gertjan is a rock ans metal music producer and also guitarist for progressive metalband 3rd Machine.
Gertjan did a lot to improve our sound. He also played two guestsolo's, one on "Now you know" and one on "Lifechanger".